Product Summary
The Microchip Technology Inc. 24AA256T-I/SM is a 32K x 8 (256 Kbit) Serial Electrically Erasable PROM, capable of operation across a broad voltage range (1.7V to 5.5V). 24AA256T-I/SM has been developed for advanced, low-power applications such as personal communications or data acquisition. This 24AA256T-I/SM also has a page write capability of up to 64 bytes of data. This 24AA256T-I/SM is capable of both random and sequential reads up to the 256K boundary. Functional address lines allow up to eight devices on the same bus, for up to 2 Mbit address space. This device is available in the standard 8-pin plastic DIP, SOIC, TSSOP, MSOP and DFN packages.
Parametrics
24AA256T-I/SM absolute maximum ratings: (1)VCC: 6.5V; (2)All inputs and outputs w.r.t. VSS: -0.6V to VCC +1.0V; (3)Storage temperature: -65℃ to +150℃; (4)Ambient temperature with power applied: -40℃ to +125℃; (5)ESD protection on all pins: ≥4 kV.
Features
24AA256T-I/SM features: (1)Single Supply with Operation Down to 1.7V for 24AA256 and 24FC256 Devices, 2.5V for 24LC256 Devices; (2)Low-Power CMOS Technology: - Active current 400 uA, typical; - Standby current 100 nA, typical; (3)2-Wire Serial Interface, I2CCompatible; (4)Cascadable up to Eight Devices; (5)Schmitt Trigger Inputs for Noise Suppression; (6)Output Slope Control to Eliminate Ground Bounce; (7)100 kHz and 400 kHz Clock Compatibility; (8)Page Write Time 5 ms max.; (9)Self-Timed Erase/Write Cycle; (10)64-Byte Page Write Buffer; (11)Hardware Write-Protect; (12)ESD Protection >4000V; (13)More than 1 Million Erase/Write Cycles; (14)Data Retention >200 years; (15)Factory Programming Available; (16)Packages Include 8-lead PDIP, SOIC, DFN,; (17)TSSOP and MSOP; (18)Pb-Free and RoHS Compliant.
Diagrams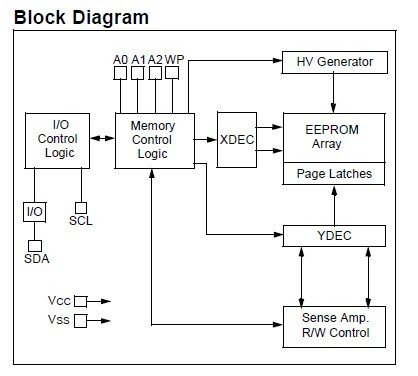 Image
Part No
Mfg
Description
Pricing
(USD)
Quantity

24AA256T-I/SM

Microchip Technology

EEPROM 32kx8 - 1.8V

Data Sheet



| | |
| --- | --- |
| 0-1730: | $0.43 |
| 1730-2100: | $0.43 |


24AA256T-I/SMG

Microchip Technology

EEPROM 32kx8 - 1.8V Lead Free Package

Data Sheet

Negotiable