Product Summary
The MCIMX257DJM4A multimedia applications processor has the right mix of high performance, low power, and integration to support the growing needs of the industrial and general embedded markets. The MCIMX257DJM4A is suitable for a wide range of applications, including the following: Graphical remote controls, Human Machine Interface (HMI), Residential and commercial control panels and Residential gateway (smart metering).
Parametrics
MCIMX257DJM4A absolute maximum ratings: (1)Supply voltage QVDD: –0.5 to 1.52 V; (2)Supply voltage (level shift i/o) VDDIOmax: –0.5 to 3.6 V; (3)ESD damage immunity: Human body model (HBM) 2500 V; (4)ESD damage immunity: Charge device model (CDM), 400 V; (5)ESD damage immunity: Machine model (MM) 200 V; (6)Input voltage range VImax: –0.5 to NVDD + 0.3 V; (7)Storage temperature range Tstorage: –40 to 105℃.
Features
MCIMX257DJM4A features: (1)Advanced power management; (2)Multimedia powerhouse; (3)128 Kbytes on-chip SRAM; (4)Interface flexibility; (5)Increased security; (6)On-chip PHY; (7)Fast Ethernet; (8)i.MX25 only supports Little Endian mode.
Diagrams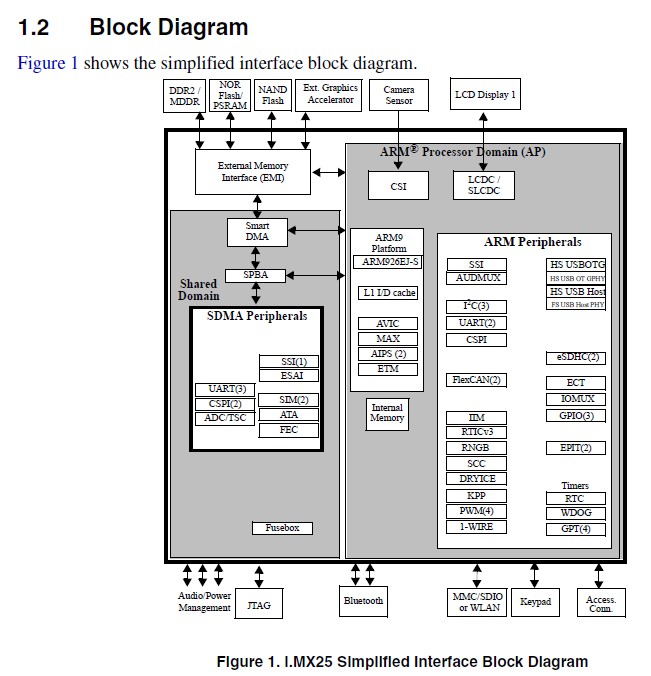 Image
Part No
Mfg
Description
Pricing
(USD)
Quantity

MCIMX257DJM4A

Freescale Semiconductor

Processors - Application Specialized IMX25 1.2 COMM

Data Sheet



| | |
| --- | --- |
| 0-1: | $5.51 |
| 1-25: | $5.35 |
| 25-50: | $5.18 |
| 50-100: | $4.46 |

Image
Part No
Mfg
Description
Pricing
(USD)
Quantity

MCIMX233CAG4B

Freescale Semiconductor

Processors - Application Specialized PMP CONTROLLER

Data Sheet

Negotiable

MCIMX233CAG4C

Freescale Semiconductor

Processors - Application Specialized i.MX233 Industrial

Data Sheet



| | |
| --- | --- |
| 0-1: | $5.72 |
| 1-25: | $5.40 |
| 25-100: | $3.38 |


MCIMX233CJM4B

Freescale Semiconductor

Processors - Application Specialized I.MX233 INDUSTRIAL

Data Sheet



| | |
| --- | --- |
| 0-1: | $5.81 |
| 1-25: | $5.01 |
| 25-50: | $4.81 |
| 50-100: | $4.42 |


MCIMX233CJM4C

Freescale Semiconductor

Processors - Application Specialized i.MX233 Industrial

Data Sheet



| | |
| --- | --- |
| 0-77: | $6.23 |
| 77-100: | $3.89 |


MCIMX233CJM4CR2

Freescale Semiconductor

Processors - Application Specialized i.MX233 Industrial

Data Sheet



| | |
| --- | --- |
| 0-1043: | $3.89 |
| 1043-1500: | $3.89 |


MCIMX233CVM4B

Freescale Semiconductor

Processors - Application Specialized PMP CONTROLLER

Data Sheet

Negotiable