Product Summary
The BAT54SW-7-F is a surface mount schottky barrier diode.
Parametrics
BAT54SW-7-F absolute maximum ratings: (1)Peak Repetitive Reverse Voltage Working Peak Reverse Voltage DC Blocking Voltage: 30V; (2)Forward Continuous Current: 200mA; (3)Repetitive Peak Forward Current: 300mA; (4)Forward Surge Current@ t<1.0s: 600mA.
Features
BAT54SW-7-F features: (1)Low Forward Voltage Drop; (2)Fast Switching; (3)Ultra-Small Surface Mount Package; (4)PN Junction Guard Ring for Transient and ESD Protection; (5)Lead Free/RoHS Compliant; (6)Qualified to AEC-Q101 Standards for High Reliability; (7)"Green" Device.
Diagrams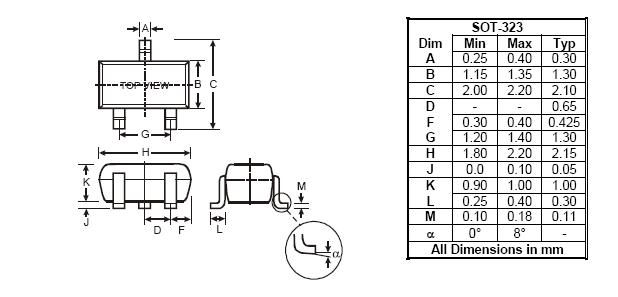 Image
Part No
Mfg
Description
Pricing
(USD)
Quantity

BAT54SW-7-F

Diodes Inc.

Schottky (Diodes & Rectifiers) 30V 200mW

Data Sheet



| | |
| --- | --- |
| 0-1: | $0.38 |
| 1-10: | $0.25 |
| 10-100: | $0.09 |
| 100-500: | $0.06 |

Image
Part No
Mfg
Description
Pricing
(USD)
Quantity

BAT54

Fairchild Semiconductor

Schottky (Diodes & Rectifiers) SOT-23 30V 200mA

Data Sheet



| | |
| --- | --- |
| 0-1: | $0.10 |
| 1-25: | $0.09 |
| 25-100: | $0.06 |
| 100-250: | $0.03 |


BAT54 /T3

NXP Semiconductors

Schottky (Diodes & Rectifiers) DIODE SCHTKY TAPE-11

Data Sheet

Negotiable

BAT54(Z)

Other



Data Sheet

Negotiable

BAT54,215

NXP Semiconductors

Schottky (Diodes & Rectifiers) SCHOTTKY 30V 200MA

Data Sheet



| | |
| --- | --- |
| 0-1: | $0.03 |
| 1-25: | $0.01 |
| 25-100: | $0.01 |
| 100-250: | $0.01 |


BAT54,235

NXP Semiconductors

Schottky (Diodes & Rectifiers) DIODE SCHTKY TAPE-11

Data Sheet



| | |
| --- | --- |
| 0-1: | $0.03 |
| 1-25: | $0.01 |
| 25-100: | $0.01 |
| 100-250: | $0.01 |


BAT54_D87Z

Fairchild Semiconductor

Schottky (Diodes & Rectifiers) SOT-23 30V 200mA

Data Sheet



| | |
| --- | --- |
| 0-1: | $0.14 |
| 1-25: | $0.10 |
| 25-100: | $0.06 |
| 100-250: | $0.04 |