Product Summary
The BSP75N is an N channel vertical power FET in Smart Power Technology. It is fully protected by embedded protection functions.
Parametrics
Absolute maximum ratings: (1)Continuous drain source voltage: 60 V; (2)Drain source voltage for short circuit protection: 36 V; (3)Continuous input voltage: -0.2 to +10 V; (4)Peak input voltage VIN -0.2 to +20 V; (5)Continuous Input Current -0.2V ≤ VIN ≤ 10V: no limit, VIN<-0.2V or VIN>10V: IIN ≤ 2mA; (6)Operating temperature range: -40 to +150℃; (7)Storage temperature range: -55 to +150℃; (8)Power dissipation (DC): 1.8 W; (9)Unclamped single pulse inductive energy: 550 mJ at ID(ISO) = 0.7 A; Vbb =32V.
Features
Features: (1)Logic Level Input; (2)Input protection (ESD); (3)Thermal shutdown with auto restart; (4)Overload protection; (5)Short circuit protection; (6)Overvoltage protection; (7)Current limitation.
Diagrams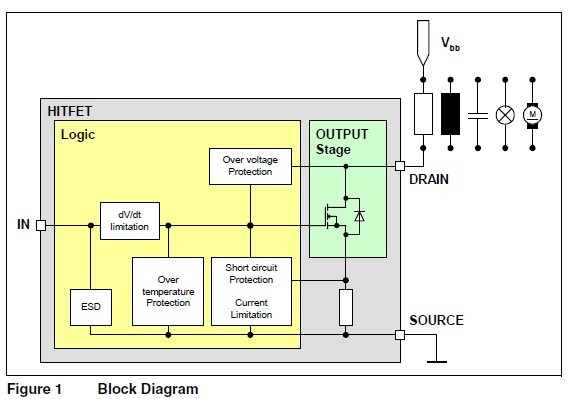 Image
Part No
Mfg
Description
Pricing
(USD)
Quantity

BSP75N

Infineon Technologies

Power Switch ICs - Power Distribution Smart Low Side 1 Ch 60 V 1.8 W

Data Sheet



| | |
| --- | --- |
| 0-1: | $0.55 |
| 1-10: | $0.50 |
| 10-100: | $0.39 |
| 100-500: | $0.31 |


BSP75NTA

Diodes Inc.

Power Switch ICs - Power Distribution Self-Protect 60V Sw

Data Sheet



| | |
| --- | --- |
| 0-1: | $0.79 |
| 1-10: | $0.70 |
| 10-100: | $0.48 |
| 100-500: | $0.43 |
| 500-1000: | $0.31 |