Product Summary
The DS12C887+ is a real-time clock (RTC). It provides a real-time clock/calendar, one time-of-day alarm, three maskable interrupts with a common interrupt output, a programmable square wave, and 113 bytes of batterybacked static RAM. It is suitable for embedded systems, utility meters, security systems, network hubs, bridges, and routers.
Parametrics
Absolute maximum ratings: (1)Voltage Range on VCC Pin Relative to Ground: -0.3V to +6.0V; (2)Operating Temperature Range: Commercial (noncondensing): 0℃ to +70℃; Industrial(noncondensing): -40℃ to +85℃; (3)Storage Temperature Range: EDIP: -40℃ to +85℃; PDIP, SO, PLCC, TQFP: -55℃ to +125℃; (4)Lead Temperature (soldering, 10s): +260℃; (5)Soldering Temperature (reflow): PDIP, SO, PLCC: +260℃; TQFP: +245℃.
Features
Features: (1)Drop-In Replacement for IBM AT Computer Clock/Calendar; (2)RTC Counts Seconds, Minutes, Hours, Day, Date, Month, and Year with Leap Year Compensation Through 2099; (3)Binary or BCD Time Representation; (4)12-Hour or 24-Hour Clock with AM and PM in 12-Hour Mode; (5)Daylight Saving Time Option; (6)Selectable Intel or Motorola Bus Timing; (7)Interfaced with Software as 128 RAM Locations; (8)Interrupt Output with Three Independently Maskable Interrupt Flags; (9)Time-of-Day Alarm Once Per Second to Once Per Day; (10)Periodic Rates from 122μs to 500ms; (11)End-of-Clock Update Cycle Flag; (12)Programmable Square-Wave Output; (13)Automatic Power-Fail Detect and Switch Circuitry; (14)Optional Industrial Temperature Range Available; (15)Underwriters Laboratory (UL) Recognized.
Diagrams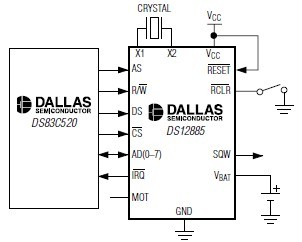 Image
Part No
Mfg
Description
Pricing
(USD)
Quantity

DS12C887+

Maxim Integrated Products

Real Time Clock RTC

Data Sheet



| | |
| --- | --- |
| 0-1: | $6.62 |
| 1-25: | $4.45 |
| 25-50: | $3.23 |
| 50-100: | $3.19 |

Image
Part No
Mfg
Description
Pricing
(USD)
Quantity

DS12

Apem

DIP Switches / SIP Switches 12POS SPST 0.05A 24V

Data Sheet



| | |
| --- | --- |
| 0-1: | $1.39 |
| 1-10: | $1.24 |
| 10-25: | $1.15 |
| 25-50: | $1.03 |


DS1200



IC SRAM 1KBIT 4MHZ 10DIP

Data Sheet

Negotiable

DS1200-3



POWER SUPPLY AC/DC 12V 1200W

Data Sheet



| | |
| --- | --- |
| 0-1: | $232.27 |
| 1-10: | $228.12 |
| 10-50: | $220.65 |


DS1200-3-002

Emerson / Astec Power

Linear and Switching Power Supplies 12V Out 1200W 1Ux2Ux11" w/5V Sby

Data Sheet



| | |
| --- | --- |
| 0-7: | $284.41 |
| 7-10: | $273.34 |
| 10-25: | $260.71 |


DS1200DC-3

Emerson / Astec Power

Linear and Switching Power Supplies 48V In 12VOut 1200W 1Ux2Ux11"

Data Sheet



| | |
| --- | --- |
| 0-7: | $370.47 |
| 7-10: | $356.03 |


DS1200HE-3



POWER SUPPLY 12VOUT 1200W

Data Sheet



| | |
| --- | --- |
| 0-1: | $239.90 |
| 1-10: | $235.62 |
| 10-50: | $227.91 |