Product Summary
The Microchip Technology Inc. MCP6541T-I/LT comparator is offered in single configuration. The outputs are push-pull (CMOS/TTLcompatible) and are capable of driving heavy DC or capacitive loads. The MCP6541T-I/LT is optimized for low power, inglesupply operation with greater than rail-to-rail input operation. The push-pull output of the MCP6541T-I/LT supports rail-to-rail output swing and interfaces with TTL/CMOS logic. The internal input hysteresis eliminates output switching due to internal input noise voltage, reducing current draw. The output limits supply current surges and dynamic power consumption while switching. This product operates with a single-supply voltage as low as 1.6V and draws less than 1 μA/comparator of quiescent current. Used with a pull-up resistor, the MCP6541T-I/LT can be used as level-shifters for any desired voltage up to 10V and in wired-OR logic.
Parametrics
MCP6541T-I/LT absolute maximum ratings: (1)VDD - VSS: 7.0V; (2)Current at Analog Input Pin (VIN+, VIN-: ±2 mA; (3)Analog Input (VIN): VSS - 1.0V to VDD + 1.0V; (4)All other Inputs and Outputs: VSS - 0.3V to VDD + 0.3V; (5)Difference Input voltage: |VDD - VSS|; (6)Output Short-Circuit Current: continuous; (7)Current at Input Pins: ±2 mA; (8)Current at Output and Supply Pins: ±30 mA; (9)Storage temperature: -65℃ to +150℃; (10)Maximum Junction Temperature (TJ): +150℃; (11)ESD protection on all pins (HBM;MM): 4 kV; 400V.
Features
MCP6541T-I/LT features: (1)Low Quiescent Current: 600 nA/comparator (typ.); (2)Rail-to-Rail Input: VSS - 0.3V to VDD + 0.3V; (3)CMOS/TTL-Compatible Output; (4)Propagation Delay: 4 μs (typ, 100 mV Overdrive); (5)Wide Supply Voltage Range: 1.6V to 5.5V; (6)Available in Single, Dual and Quad; (7)Single available in SOT-23-5, SC-70-5 packages; (8)Chip Select (CS) with MCP6543; (9)Low Switching Current; (10)Internal Hysteresis: 3.3 mV (typ.); (11)Temperature Ranges: - Industrial: -40℃ to +85℃; - Extended: -40℃ to +125℃.
Diagrams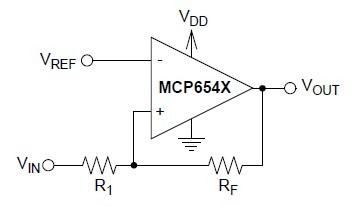 Image
Part No
Mfg
Description
Pricing
(USD)
Quantity

MCP6541T-I/LT

Microchip Technology

Comparator ICs Sgl 1.6V Push/Pull

Data Sheet



| | |
| --- | --- |
| 0-2150: | $0.16 |
| 2150-3000: | $0.16 |

Image
Part No
Mfg
Description
Pricing
(USD)
Quantity

MCP6001

Other



Data Sheet

Negotiable

MCP6001RT-E/OT

Microchip Technology

Operational Amplifiers - Op Amps Single 1.8V 1MHz

Data Sheet



| | |
| --- | --- |
| 0-1: | $0.19 |
| 1-10: | $0.17 |
| 10-25: | $0.14 |
| 25-100: | $0.13 |


MCP6001RT-I/OT

Microchip Technology

Operational Amplifiers - Op Amps Single 1.8V 1MHz

Data Sheet



| | |
| --- | --- |
| 0-1: | $0.16 |
| 1-10: | $0.14 |
| 10-25: | $0.12 |
| 25-100: | $0.11 |


MCP6001T-E/LT

Microchip Technology

Operational Amplifiers - Op Amps Single 1.8V 1MHz

Data Sheet



| | |
| --- | --- |
| 0-2350: | $0.13 |
| 2350-3000: | $0.13 |


MCP6001T-E/OT

Microchip Technology

Operational Amplifiers - Op Amps Single 1.8V 1MHz

Data Sheet



| | |
| --- | --- |
| 0-1: | $0.19 |
| 1-10: | $0.17 |
| 10-25: | $0.14 |
| 25-100: | $0.13 |


MCP6001T-I/LT

Microchip Technology

Operational Amplifiers - Op Amps Single 1.8V 1MHz

Data Sheet



| | |
| --- | --- |
| 0-1: | $0.17 |
| 1-10: | $0.16 |
| 10-25: | $0.13 |
| 25-100: | $0.11 |