Product Summary
The SGTL5000XNAA3 is a Low Power Stereo Codec with Headphone Amp from Freescale, and is designed to provide a complete audio solution for portable products needing line-in, mic-in, line-out, headphone-out, and digital I/O. Deriving it's architecture from best in class, Freescale integrated products that are currently on the market. The SGTL5000XNAA3 is able to achieve ultra low power with very high performance and functionality, all in one of the smallest footprints available. Target markets include portable media players, GPS units, and smart phones. Features such as capless headphone design and an internal PLL, help lower overall system cost.
Parametrics
SGTL5000XNAA3 absolute maximum ratings: (1)Maximum Digital Voltage VDDD: 1.98 V; (2)Maximum Digital I/O Voltage VDDIO: 3.6 V; (3)Maximum Analog Supply Voltage VDDA: 3.6 V; (4)Maximum voltage on any digital input: GND-0.3 to VDDIO+0.3 V; (5)Maximum voltage on any analog input: GND-0.3 to VDDA+0.3 V.
Features
SGTL5000XNAA3 features: (1)Stereo Line In - Support for external analog input; (2)Stereo Line In - Codec bypass for low power; (3)MIC bias provided (5.0 x 5.0 mm QFN, 3.0 x 3.0 mm QFN TA2); (4)Programmable MIC gain; (5)ADC - 85 dB SNR (-60 dB input) and -73 dB THD+N (VDDA = 1.8 V); (6)HP Output - Capless design; (7)HP Output - 45 mW max into 16 ohm load @ 3.3 V; (8)HP Output - 100 dB SNR (-60 dB input) and -80 dB THD+N (VDDA = 1.8 V, 16 ohm load, DAC to headphone); (9)Line Out - 100 dB SNR (-60 dB input) and -85 dB THD+N (VDDIO = 3.3 V); (10)I2S port to allow routing to Application Processor; (11)Freescale Surround, Freescale Bass, tone control/ parametric equalizer/graphic equalizer Clocking/Control; (12)PLL allows input of an 8.0 MHz to 27 MHz system clock -Standard audio clocks are derived from PLL; (13)Designed to operate from 1.62 to 3.6 volts.
Diagrams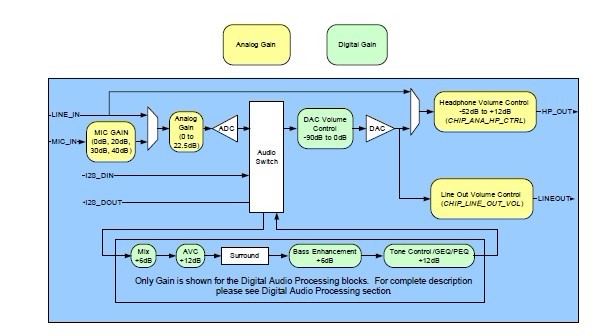 Image
Part No
Mfg
Description
Pricing
(USD)
Quantity

SGTL5000XNAA3

Freescale Semiconductor

Audio CODECs Audio Codex

Data Sheet



| | |
| --- | --- |
| 0-1: | $1.30 |
| 1-25: | $1.18 |
| 25-50: | $1.01 |
| 50-100: | $0.82 |


SGTL5000XNAA3R2

Freescale Semiconductor

Audio CODECs Audio Codex

Data Sheet



| | |
| --- | --- |
| 0-1: | $1.38 |
| 1-25: | $1.30 |
| 25-100: | $0.82 |